Martin Bodilsen Kaldahl: Other Objects
Welcome to the opening Thursday 27 September 5 – 8 pm
On Saturday 29 September at 2 pm you are invited to an Artist Talk
with Martin Bodilsen Kaldahl at the gallery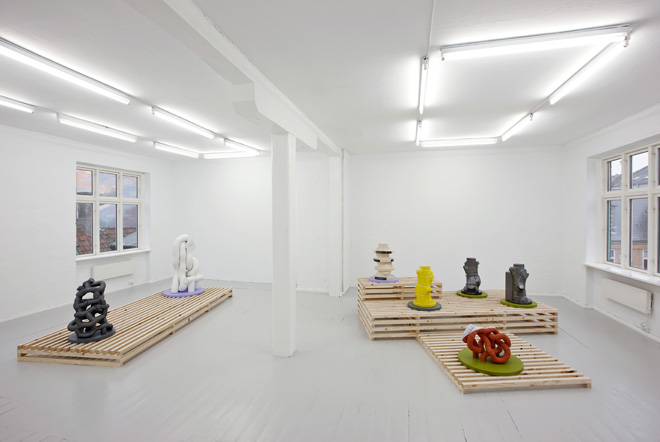 Martin Bodilsen Kaldahl at Copenhagen Ceramics
Photo: Jeppe Gudmundsen Holmgreen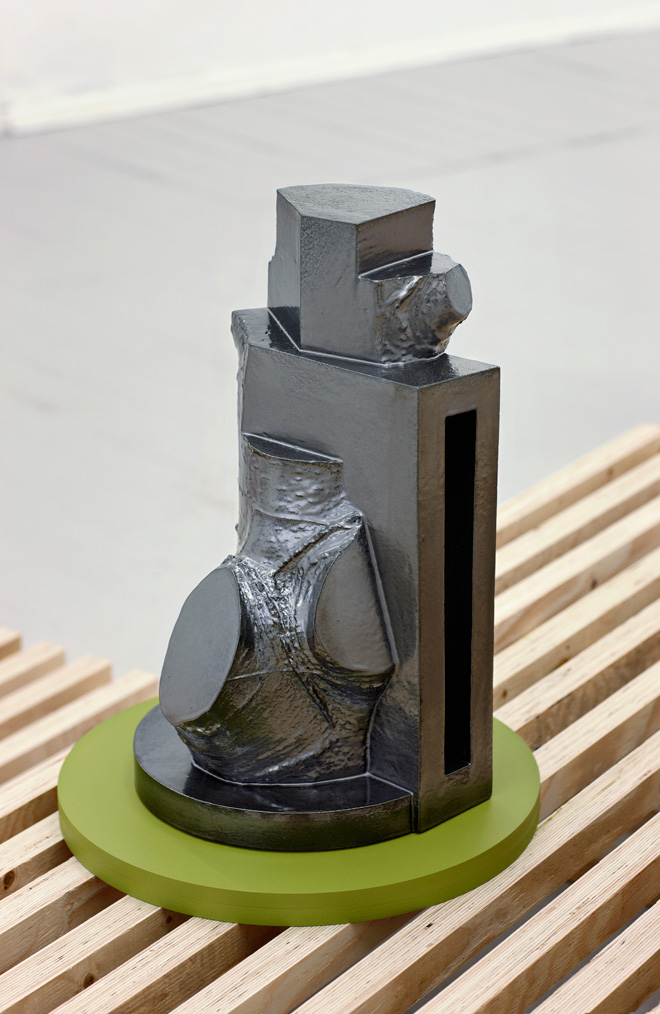 Martin Bodilsen Kaldahl: Guardian / Circumstantial Edifice 1, 2012. H: 49 cm
Photo: Jeppe Gudmundsen Holmgreen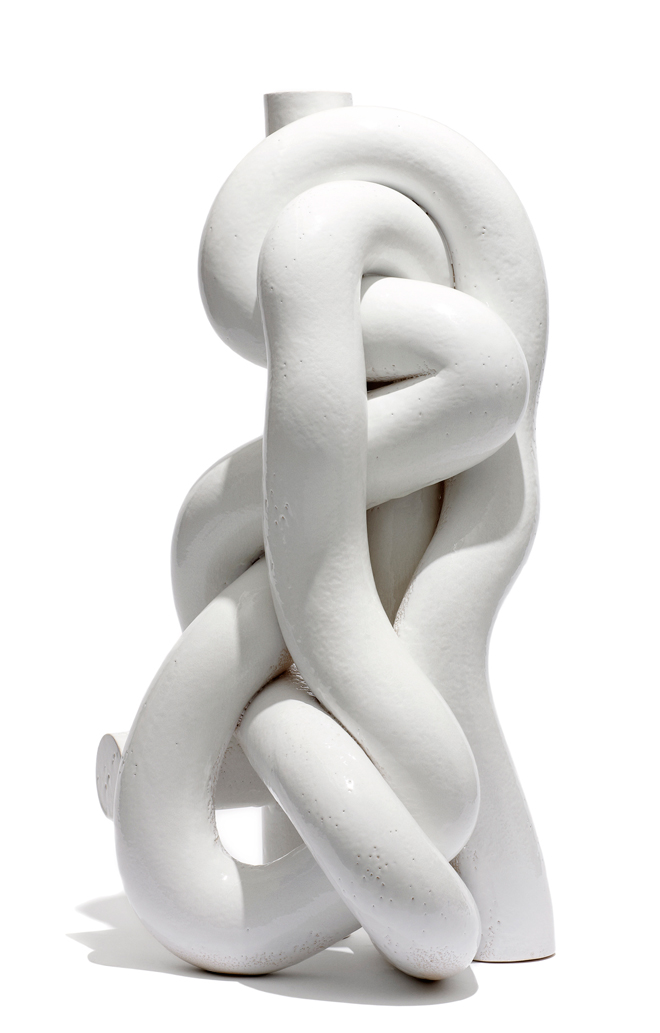 Martin Bodilsen Kaldahl: 'Knot', 2012. H: 106 cm
Photo: Jeppe Gudmundsen-Holmgreen






In his solo show at Copenhagen Ceramics Martin Bodilsen Kaldahl will be showing new ceramic works along two seemingly separate tracks: Knots and tree trunks – and the space around them. The apparently disparate form-themes meet in a visual, rhythmic play with the boundaries between distinct figuration and abstraction.
Martin Bodilsen Kaldahl's pieces are non-narrative, but contain stories on the formal and ornamental level. He is interested in visual and emotional perception and investigates how the experience of familiar things from our immediate surroundings can be displaced on purely visual terms and open up to a different understanding of these things as something other – poetic objects.

In his work Kaldahl always places the expressive potential of form at the centre. The precise formal language is characteristic. His ceramic pieces consist of very distinct components, often well known form-types. For example, in recent years, the branch, the tree trunk or a basic cultural expression such as the knot, have been at play. He puts things under close scrutiny. To consider the knot as subject for sculptural elaboration you must take it deeply seriously: its capacity for spatiality, the importance of scale, monumentalizing. Likewise with the tree trunk and the clean cuts of its lopped branches . In the new works this functions as point of departure for form-variations, that point to the tree as both nature and culture.

But for Kaldahl this is not primarily an account of our cultural relationship with nature. He puts emphasis on the purely visual conditions and how they affect us. How we sensually experience the rhythm of the shifting planes, the volume of the form, the texture of materials and how we are moved emotionally in a direct movement from the object to the body – a parallel to the direct impact of music on our senses.

Martin Bodilsen Kaldahl has been exhibiting internationally and in Denmark over many years and
his works are represented in important public and private collections, e.g. the V&A Museum in London; Musée d'Art Decoratifs, Paris; Designmuseum Danmark; National Museum, Oslo; Röhsska Museet, Gothenburg; Trapholt Art Museum, DK; International Ceramics Museum Grimmerhus,DK; The Annie and Otto Johs. Detlefs Collection, DK; Diane and Marc Grainer Collection, Washington and more. He has received several awards, e.g. The Crafts Council Annual Award, DK (2001);
The Sotheby Award, UK; Honorary Award of the Ole Haslund Fund and The Inga and Ejvind Kold Christensen Prize in 2011.

Since 1997 he has also been employed part time as lecturer at Danmarks Designskole. From 2005 – 2008 he was guest designer with an artistic research programme at the school, developing a range of digital projects and methods that continue to play an important part in his working process.

Copenhagen Ceramics invites to an Artist talk with Martin Bodilsen Kaldahl on Saturday 29 September at 2pm at the gallery.


Copenhagen Ceramics
Smallegade 46, baghuset 2. sal tv
2000 Frederiksberg

Contact: Martin Bodilsen Kaldahl
Mobile: 2728 5452
martin@copenhagenceramics.com


Wednesday — Friday: 1 – 6 pm
Saturday: 12 am – 4 pm